For the past month or so I have been using a few Cantu Shea Butter for Natural Hair products exclusively. I wanted to make sure that I could give an accurate review of my experiences; what I loved and what I didn't love. So lets get into it!
Deep Treatment Masque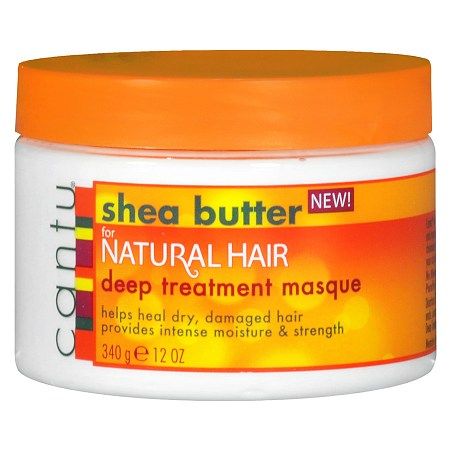 Claims to help heal dry, damaged hair and provide intense moisture and strength.
I don't deep condition my hair that frequently, about twice a month since I use a lot of moisturizing products. The first time I used this deep conditioner, I used it following my regular shampoo. I left it in for about 20-25 minutes and my hair was very soft and manageable. My hair didn't feel dry or have that "residuey" feeling. The second time I used it, which happened to be this week, was following a protein treatment. I have been having some issues with my hair and I thought that maybe I need a little protein. This was my first time using a protein specific product on my 100% natural hair.
My hair was very dry, so I followed with this product and left it on my hair for a little over an hour and a half because I got a little preoccupied. After rinsing it out my hair was soft and it did not have that straw like feeling after my hair dried completely.
This definitely did what it claimed, especially after experiencing how dry my hair felt after my minor protein treatment. I say minor because I just used the Aphogee 2 Minute Reconstructer. But, this will definitely be in my rotation for nights when I need to deep treat my hair for moisture.
Creamy Hair Lotion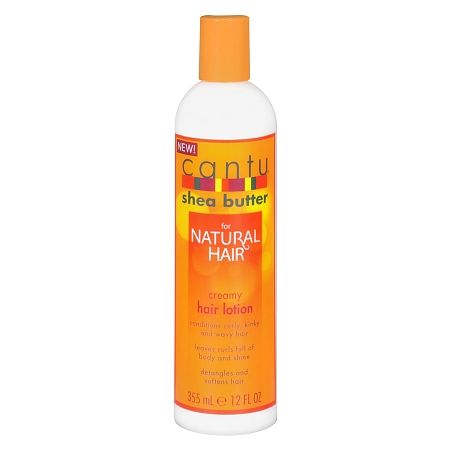 Claims to condition curly, kinky and wavy hair; leaves curls full of body and shine; detangle and soften hair.
I have a confession, I went THROUGH this stuff. It is a great daily moisturizer; not so much for definition (especially if you have very kinky hair) but if you need a quick moisture fix this is it! I used this the most on puffs and front updos. I did use it on braid outs, but you will need something with a little more hold if you want to keep the definition because this will not give you any hold.
I would definitely recommend this for daily moisturizing hands down. I will warn you that you may experience some product build up so you will have to be a weekly washer. Other than that, if you have tightly coiled hair this is perfect for moisturizing puffs and updos.
Coconut Milk Shine & Hold Mist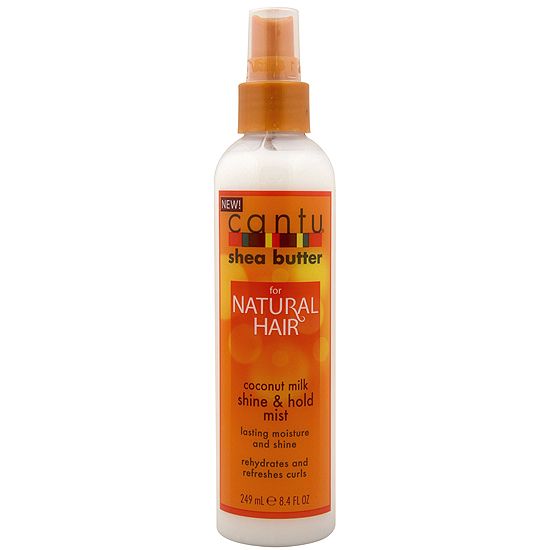 Claims to rehydrate and refreshes curls; give lasting moisture and shine.
This particular product I did not use as often as the other two. I used it a few times while on a trip to refreshen my puffs. My brother on the other hand loves this stuff! He has dreads and uses it daily. He says he sprays it on his locs until they feel wet and then lets them dry. He says he likes that it keeps his hair moisturized throughout the day, which was something he had been having an issue with. He uses the mist once a day.
I think this product is great for someone with locs, braids or some other protective style where a mist would be the most useful. I personally didn't find many uses for it since I mainly do braidouts and puffs and I had already been using the hair lotion. If you do a little more than me, then this may come in handy. I will definitely revisit it with other hairstyles like two-strand twists which I tend to do more of during the summer.
All in all I am impressed with Cantu's natural hair line! If you read my review on the Coconut Curling Cream then you know what I had to go through to get my hands on that product. You can find these products at your local Target, Walgreens or other drugstore and they retail for under $10. I will be posting a styling video using the coconut cream next week, so be on the lookout for that. If you've tried any of the Cantu natural hair products I'd love to know how it worked for you. Comment below, tweet me or leave a comment on the Facebook page!
Please note, these products were sent for review. These are my actual experiences and reflect my honest thoughts and opinions. For more on review policies read here.
Like what you see? Then share with your friends and followers by hitting the 'Like' button above and using the social media links below!
Where's your glam? Find inHer Glam on Facebook, Twitter, Tumblr and Bloglovin and stay connected to all things glam wherever you go!