I have tried my fair share of oil concoctions over the years since being natural and they have all served their purpose. I have yet to come across an oil that strayed far from its purpose or did anything that extraordinary to rave about. Well, I've finally met my match!
The Curls Blissful Lengths Kukuinut Oil Elixir is another product that I received at Rachel's O's natural hair event a few months ago. I have had plenty of time to use this oil on my hair and the results have been the same every time which is why I wanted to let those who have heard of or used the product know about it.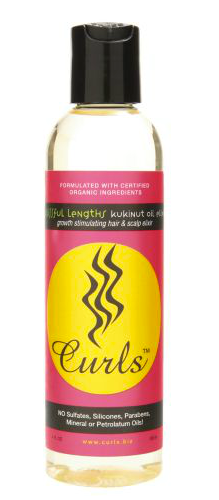 This oil elixir is loaded with natural oils, and growth enhancing extracts guaranteed to leave your tresses, and scalp euphoric. It's for multi-ethnic women looking for effortless and frizz-free hair. I have never used Curls products before, but if I only had this one oil to try out and use I would be fine with that. When I say my hair was extremely soft, like I don't know how to explain. Usually most oils just coat your hair and give it some shine and, for me at least, you never really experience that much of a change related to the feel of your hair.
This is totally different. I used this oil alone and on top of other products as a sealant and it's the same either way. As far as the growth claim, I can't vouch for that since I never really noticed or paid attention to the aspect of the oil. What I do know is that this has become my go to oil concoction, even before my own home mixtures and I will definitely be purchasing it again once I run out.
It retails for about $9 and you can pick it up at your local Sally's or Target. If you've tried this product or any other Curls products I'd love to hear what your experience was like. Leave your comments and input below!
Please note, this is my honest opinion of the product featured in this post. I was not sent the product for review. All reviews are based on my own experience and the rest of the site's policies can be viewed here.
Like what you see? Then share with your friends and followers by hitting the 'Like' button above and using the social media links below!
Where's your glam? Find inHer Glam on Facebook, Twitter, Tumblr and Bloglovin and stay connected to all things glam wherever you go!