Jill Allison's passion is women. Working in the beauty industry for over 20 years, Jill has worked under professionals, taught technique classes, done hair shows, fashion shows, weddings, ran her own salon and much more.
It was while working on grounds driving tractors that Jill discovered her true calling.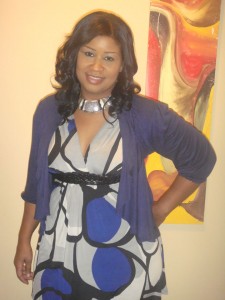 "Why are you doing what you're doing?" is the question she was often asked. Jill showed up to work completely glam in makeup with fabulously coiffed hair. She went to hair school and started as a shampoo assistant at a friend's salon never looking back. Doing platform art with Vitale, learning valuable information and techniques from professionals in the field and venturing out on her own has helped her hone her talent.
Jill opened up her own salon, The Beauty Bar, three years ago managing nine employees and holding various beauty events. While managing her salon, she also dedicated a lot of her time and energy to her outreach ministry for women in need. She would shut down the salon once a month and open the doors to these women giving them a full pampering treatment.
With a heart for helping women, she later closed up shop to focus more of her time and energy on her ministry. Jill teaches bible study, provides women and their children with clothing from donated items, volunteers at Amani House; her basement is full of donated items for women and children in need.
Her experience with Amani house was the initial step to finding her calling in ministry. The women of Amani house had never been pampered, never had professional work done and that brought her to tears.
"It was such a blessing to see how excited they were. We have the nerve to get upset when we can't get our hair done, but they were very appreciative."
How does Jill define inner glam?
"Taking what you naturally have, your natural beauty, and enhancing it. Don't cover up what you have."
Jill's advice for doing what you love.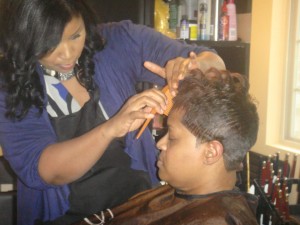 "Follow your heart, allow the talent God gave you, your natural ability, and follow that even if it's not out yet. Don't be afraid. What God built you with or gave you, I believe is enough to make a living off of."
Jill plans to open a smaller salon that will focus on events; pampering women in need, networking and connecting people together. Jill also is working on starting a makeup line very soon.
Jill Allison resides in the Chicagoland area. She is a makeup artist and hair stylist. To contact for weddings, fashion shows, stage makeup or any other service, shoot her an email at thebeautybar1@yahoo.com.
Miss this month's issue of inHer Glam Monthly? Sign up in the sidebar by entering your email address and get glam delivered directly to your inbox!
Like what you see? Then share with your friends and followers by hitting the 'Like' button above and using the social media links below!
Where's your glam? Find inHer Glam on Facebook, Twitter, Tumblr and Bloglovin and stay connected to all things glam wherever you go!