By| Tashween Ali
Long after you leave New York City, while you wear your 'I Heart N.Y' T-shirt, you'll be thinking about these mouth-watering dining spots that didn't empty your wallet, but made you wait in line. These Zagat favorites have become so popular and a part of American culture, that every tourist (and New Yorker) must try them at least once.
Corner Bistro
Everyone knows about Corner Bistro, because it's been there since the beginning of last century. It's the classic West Village bar, with dim lights and no menu, that was mentioned on CBS's How I Met Your Mother.  A burger for $6.75 or less and cheap beer including the crowd favorite, McSorley's on tap; CB doesn't bother with fancy additions like truffles on your burger or fusion concoctions to make delicious food. It's all about the meat. If you are looking for a juicy, ½ pound of perfectly medium rare meat, get your burger here.  The fries won't impress you, (but that's why we recommended Pomme Frites!). Open till 4am and cash only.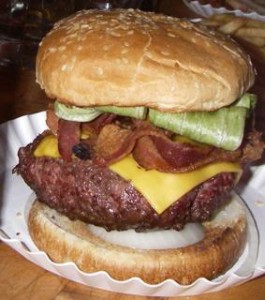 Photo: hauteliving.com
Photo: somethingsighted.blogspot.com
West Village
331 W 4th St
New York, NY 10014
Miss this month's issue of inHer GLAM Monthly? Sign up in the sidebar by entering your email address and get glam delivered directly to your inbox!
Like what you see? Then share with your friends and followers by hitting the 'Like' button above and using the social media links below!
Where's your glam? Find inHer GLAM on Facebook, Twitter, Tumblr and Bloglovin and stay connected to all things glam wherever you go!