Glee, The Asian F Episode
This week Glee reminded us of why we loved them with performances of songs from West Side Story, Dream Girls and Beyonce. There were so many great performance this episode that is was hard to pick just one, but we chose the clip below because 'Brittany' danced her a** off! Catch it below!
Fashion 'Weeks' End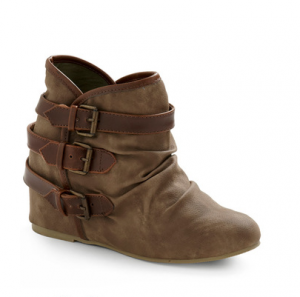 Buckle Wedge Ankle Boot
As much fun as it was to see next seasons designs and trends, we're kind of excited that the series of Fashion Week has ended and we can focus on fall fashion. How are you transitioning into fall? Show us your outfits on our Facebook page!
Nikita
Nikita is on it's second season, and after two episodes we are still hooked! If you love action mixed with a love story and a pinch (or two) of suspense, then you'll love this action packed show. Catch up on episodes here, and don't miss episode 3 tonight on The CW!
What are you loving this week? Chime in below, and as always, on Facebook and Twitter!
Miss this month's issue of inHer GLAM Monthly? Sign up in the sidebar by entering your email address and get glam delivered directly to your inbox!
Like what you see? Then share with your friends and followers by hitting the 'Like' button above and using the social media links below!
Where's your glam? Find inHer GLAM on Facebook, Twitter, Tumblr and Bloglovin and stay connected to all things glam wherever you go!